Micah Hamilton
Manchester City
Author: Freddie Lammie
Freddie Lammie spoke to Manchester City attacking midfielder Micah Hamilton to discuss his progress from injury, the transition from U18s to U23s football and the success of fellow academy stars including Cole Palmer.
TSS: You came back from injury recently to start against Club Brugge in the Uefa Youth League – are you feeling refreshed and ready to make an impact for the 23s?
MH: I came back but I'll be real, I wasn't fully fit and I wasn't feeling myself. I played the game and think that I might have done [my ankle] again so I'm going to get a scan and see how it is. I'm hoping it's not going to be too long – I just want to come back fully fit.
TSS: When did you develop a love for football? 
MH: With me, I'd probably say it was a natural thing. I signed for City when I was seven years old but I joined at around four or five years old. I started kicking it just with my dad and City came in. I did a training session with them and that went well. Obviously it was overwhelming but [when] you're young, you're just kicking ball and you don't really know what you're doing.
From young I knew I was a technical guy but I'd probably say at 13s or above was when I clocked that I could be something and make a name for myself. 
I was just having fun with it, and kept on progressing. I've always loved football. I had the decision between City and United and my family left it to me, [although] I knew my dad wanted me to sign for City. United, at that age, you did what you wanted, whereas City was drilled. I chose to sign for City, and I'm still there now and I've been here for ten years plus. 
There have been a few of us [who have progressed together through the ranks]. Harvey Griffifths has been there from young but moved to Wolves recently. Shea Charles, Carlos Borges as well, he's been there from the start as well. I've never seen a guy use his pace as well as [Carlos] Borges. The quickest guy I've ever seen, no joke. 
TSS: Let's talk about last season. You were a key member of the U18s team which was crowned Premier League National Champions, in what was an extremely successful season for everyone associated with the club. Did you go into most games thinking that you would win them all?
MH: At the start of the season, no, but when we got into the season, that's what it felt like. When we'd go to the games, we would think 'how many goals are we going to score today?' The stats that we put up were silly. 
TSS: There's a picture of you as a 13-year-old ballboy a few years ago in conversation with Pep. What do you remember of the chat?
He just called me over, and he was telling me something and I'm just thinking 'yeah, just nod.' From what I've seen in training sessions, he has the same persona in training as he gives off in interviews!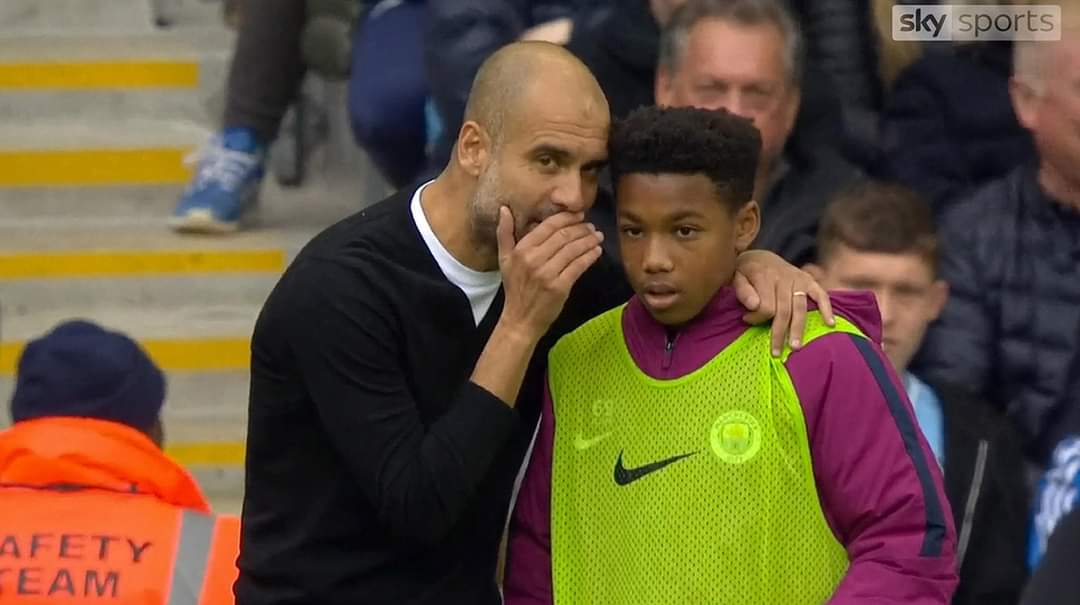 TSS: As you mentioned, you've been in and around first-team training over the last few months. How were those experiences?
MH: Training with these guys, you definitely improve. Last season we didn't really train with them because of Covid. Obviously the English ones are very welcoming.
[There are a] few nerves but you've got to embrace it and step up. Every time I go to train with the first team, I just think that I've got to show them what I've got.
TSS: Pep has given a number of your academy teammates first-team debuts this season. On the other hand, the pathway for players at City has not always been open. How would you assess your chances of breaking through one day into the first-team?
MH: When you see a player like Cole Palmer, he's getting appearances but he's still not in. I think there's opportunity there but it's difficult, you're either patient like Phil [Foden] or you go away. 
I want to play for the first team here, but if that doesn't [work out], there's obviously opportunity elsewhere, abroad or in England, especially because I play for a club like Man City.
There's only a fair few that make it. I've seen it with my own eyes looking at Phil's age group above, there was Jayden [Braaf], Tom Dele, and Phil was the only one who actually broke through. In the next two years, I just want to break through.
TSS: How have you found making the step-up into the U23s for the first time this season?
MH: It's physically more demanding, you can definitely feel that. You play against better players so it's definitely been a step-up. I'm now [18-years-old] playing in the PL2, so it's a case of let's just see what I can do. Once I'm back fit and playing, I can start putting up stats again. 
This season's been mad – last season there was a fixed team. Now we've got a young team, including 17-year-olds, 16-year-olds, and 15-year-olds. [With] the injuries we're getting, it's going to be tough, but our aim is to win the Uefa Youth League and PL2.
TSS: 5-a-side team of players you've played with?
MH: I'm going to put Cole in. No positions, just vibes. I'm going to put Carlos Borges in there. Actually, I'm just going to make a team of the most skillful players I've ever seen. Jayden Braaf, Cole Palmer I'm going to keep him in there. Jamie [Bynoe-Gittens], Darko as well. There are too many names. Josh Adam as well. You have people that do body feints and fake shots. Fake shots are dangerous.
TSS: Thanks for your time Micah, and thank you to those reading! Make sure you follow the socials if you haven't already! You can find us @thesecretscout1 on Instagram, @TheSecretScout_ on Twitter, and THESECRETSCOUT on YouTube! Stay tuned for more content coming your way…